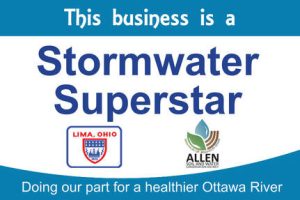 Each year, the City of Lima and Allen Soil and Water Conservation District recognize businesses and organizations for best management practices that impact stormwater and keep the Ottawa River clean. By working together on best management practices for stormwater, we can improve the quality of the water in the Ottawa River. If you currently have any of these practices in place at your business or organization, we want to honor you in our annual stormwater superstar recognition.
Do you:
• Have a stormwater and chemicals pollution prevention plan
• Keep your property free of litter
• Properly apply fertilizer
• Plant trees
• Landscape your property to filter water
• Maintain green spaces
• Protect storm drains
• Use best management practices on construction sites
• Promote environmental awareness
• Use rain barrels
• Have a rain garden
• Recycle waste and properly dispose of hazardous materials
Then we want to recognize you as a Stormwater Superstar!
If you would like information on implementing any of these practices, please contact Lydia Archambo at the Allen Soil and Water Conservation District at 419-222-0846 x1004 or lydia@allenswcd.com.
Do your part to make a difference for water quality in our community.
Stormwater Superstar Winners
2022
Lewandowski Engineers
Munger, Munger & Associates Architects
Engineering Resources, Inc.
Design Collaborative
2021
Bockrath and Associates
Bruster's Car Wash
2020
Bacon and Associates
Webb Insurance Agency
2019
Buffalo Wild Wings
Dominion Energy
Hollander on Main
International Tank Service
Children's Garden
Earth Day Festival
Ottawa River Cleanup
Freedom K-Kids Club
Heritage K-Kids Club
Unity K-Kids Club
2018
4D Imaging

Allied Environmental Services, Inc. 

Black Lace Hair Salon

Crankers Cycling

FITS Lawn Care and Landscaping

Quick As A Wink Printing

Restoration House of Lima
2017
Alloway
Best-One Tire & Service
Lima City Schools
Lima Memorial Health System
ReStore
Runkel Landscape Associates
St. Mark's United Methodist Church
St. Rita's Health Partners
University of Northwestern Ohio
Wingate by Wyndham