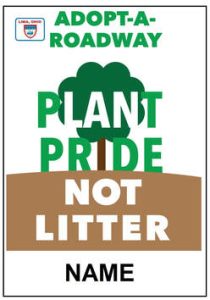 Volunteer for the Lima – Allen County Adopt-A-Roadway program to help keep our community sparkling. The program aims to reduce the amount of litter on the streets of Allen County. This greatly benefits water quality because litter on the street will eventually find its way into local streams and ultimately into the Ottawa, Auglaize, or Blanchard Rivers. The Allen Soil and Water Conservation District, The City of Lima, and Keep Allen County Beautiful work as partners to maintain this important litter clean-up program. To get involved call Lydia Archambo at 419-222-0846 x1004.
How the Program Works
Volunteers adopt a one-mile stretch of roadway or a specific area and commit to conducting a litter clean-up event at least two times per year. Trash bags, gloves, safety vests, and disposal options for collected trash are offered to volunteers and provided as needed. Individuals, community groups, families, and clubs are all welcome to participate. As part of the program, a road sign will be installed at the adopted area which gives the group credit and promotes the program with the hopes of getting others involved.

Get Involved!
Several groups have already made commitments and their hard-work is making a difference. However, there is still much of Allen County that isn't being covered and more volunteers are needed to help keep litter off the streets and out of our rivers.
For more information or to get involved in the Adopt-A-Roadway program call Lydia at 419-222-0846 x1004.
Download the Adopt-A-Roadway application here. Download the Adopt-A-Roadway volunteer agreement here.