Manure/Fertilizer Application Rules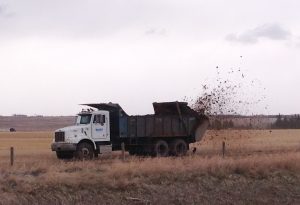 Each owner, operator, animal manure applicator, or person responsible for land application of manure from an animal feeding operation shall minimize pollution from occurring on land application areas. In order to minimize the potential for pollution the following items shall be considered, including but not limited to: characteristics of the animal manure, available land, topography, cropping system, method of application, weather, time of the year, condition of the soil, other nutrients applied, and nutrient status of the soil.
DON'T apply fertilizer if the weather forecast predicts a greater than 50% chance of precipitation of 1 inch or more in 12 hours.
DON'T apply manure if the weather forecast predicts a greater than 50% chance of precipitation of ½ inch or more in 24 hours.
Manure is a valuable resource that needs to be managed effectively and efficiently. Land application
of manure should not be considered simply a disposal system. Manure provides nutrients for crops and helps build and maintain soil fertility.
Manure can also improve soil tilth, increase water holding capacity, lessen wind and water erosion, improve aeration, and promote beneficial organisms.
There are three principal objectives in applying animal manure to land:
• Ensure maximum utilization of the nutrients in the manure by crops.
• Minimize environmental hazards.
• Minimize neighborhood complaints and concerns.
Setback distances. To protect the environment and minimize neighbor complaint, manure should not be applied adjacent to sensitive areas. Consider additional application setback distances from neighbors and environmentally sensitive areas such as sinkholes, wells, gullies, ditches, surface inlets, or rapidly permeable soil areas. Setback distances may need to be increased due to local conditions such as a pond or lake used for a water supply or recreational area or a stream that is already impaired by excess nutrients.
We recommend that before any application of fertilizer or manure to print off a weather forecast for your own defense. The Allen Soil and Water office uses the ONMRK App on our phones for the on the go weather forecast, and in the office we use the website http://www.weather.gov/ for our records.
Don't forget our office can help guide you to a nutrient management plan and manure storage suggestions.
​
ASWCD Can Help!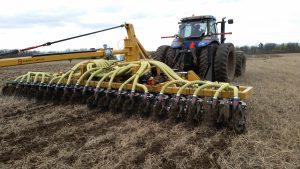 The Allen SWCD has seen a serious issue with manure storage structures becoming significantly full during the winter months. This is usually caused by a short window for manure application as well as low availability of manure pumpers or Certified Livestock Managers. We were contacted by several livestock farmers wanting to extend manure applications through the winter to relieve pressure on their manure storage structures. With the 939.08 winter application laws in effect, that was impossible to accomplish. The law states that no manure application can occur on snow covered or frozen ground unless its applied on an over wintering cover crop or incorporated within 24 hours. Thankfully, farmers were able to get some relief with several windows of opportunity through the winter to apply manure.
As a county SWCD office, we acknowledged the need to help our area farmers and decided to apply for a $250,000 GLRI Grant through the state of Ohio. This grant is focused on reducing nonpoint source nutrient runoff from agricultural source reduction component for subsurface injection of manure and promotion of nutrient management. Our proposed work goal is to reduce nutrient loading to the Auglaize River basin and the Western Lake Erie Basin, specifically dissolved reactive phosphorus.
With this GLRI Grant, we are able to help provide area farmers with equipment to pump out their own manure with a 16 unit, 20" spacing Bazooka Standard Toolbar,1.5-mile hose, and a booster pump. To rent this equipment, the land must be in Allen County, have up to date manure/soil samples, and must provide proof of insurance. We will be charging by gallon to use this equipment. This is the first one in the state of Ohio available through a local SWCD office to rent. We, as a county agency, are excited to have this opportunity to provide farmers equipment to allow timely manure applications throughout the year. If you are interested in using this equipment or want more information, please contact Jarrod Wehinger 419-999-0326 or jarrod1@allenswcd.com.