Testing Is The First Step Toward Healthy Soil
Fertile soil is necessary to grow healthy crops, lush lawns and spectacular gardens. Before you apply fertilizer, it's important to test your soil so you know its chemical composition and can determine what type of fertilizer to use and how much to apply. This will help you save money on fertilizer, protect our streams from runoff, and ensure healthy soil and crops.
Steps to Collect a Soil Sample
   1. Use a hand trowel, shovel, or soil probe to take about 12 samples from different places in your target area and put the samples in a clean container
– Make sure samples are the same size/amount of soil
– Samples should be thin, vertical slices of your soil
– For gardens go down 8 inches
– For lawns go down 3 inches
2. Break apart any soil clumps and thoroughly mix the samples together so that you have one large, composite sample
3. Measure out 1 cup (8 oz) and place it in a Ziploc bag – this is the sample you will send to the lab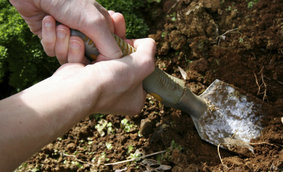 If you don't have a soil probe, you can use a hand trowel to collect samples.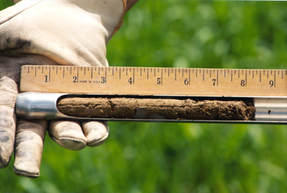 This soil probe was used to get an 8 inch deep sample.
Sending in your Soil Sample
1. Fill out the form for the soil lab. Allen SWCD recommends the Penn State soil laboratory.
-If you are testing a home garden or lawn, you can download the correct form by clicking on the following link:
Penn State Home Garden/Lawn Soil Fertility Test
-If you are testing soil for something other than a home garden or lawn, visit the following webpage to find the
correct submission form to download and complete:
Penn State Soil Fertility Testing
2. Mail your completed form, your 8 oz soil sample, and your payment/check to the soil lab
-Penn State's basic fertility test costs $9
-Penn State soils laboratory address: 111 Ag Analytical Servics Lab
University Park, PA 16802
3. In less than two weeks you should receive your results!
Penn State Soil Testing
The Penn State soils lab offers many different soil tests. The soil fertility test is recommended for farmers, homeowners, and landscape contractors who want to know the fertility of their soil and fertilizer requirements. The soil fertility test will analyze soil samples for water pH, phosphorus, potassium, magnesium, and calcium. The results will also include lime and fertilizer recommendations for you. 
​Visit the Penn State College of Agriculture Sciences website for more information on their different soil testing services:
​     Penn State Agricultural Analytical Services Lab
Ohio State University Extension 

For more information on soil testing view the following Fact Sheet from Ohio State University Extension:
Soil Testing for Ohio Lawns, Landscapes, Fruit Crops, and Vegetable Gardens